Open Artistic Call to Victims of Sexual Assault and Domestic Violence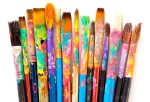 Objective: A Community Celebration of Resilience, Healing and Hope, sponsored by Hope Rising.
During McKinney's Arts in Bloom event on April 7-9, Hope Rising is sponsoring a public exhibit of professional and amateur healing art work created by survivors of sexual assault and domestic violence. Professional and amateur artists who are survivors of sexual assault or domestic violence are invited to submit their original works of art. The deadline for all submissions is March 30 at 4:00 p.m. and will be limited to the first 60 who submit their work. NOTE: While we encourage everyone to use this as a healing process, please keep in mind we retain the right to not exhibit work if it is deemed too traumatizing for children.
We will be accepting ONLY 2D art submitted on 12 X 16 canvas panels (in the future we hope to open this up to other genres). All mediums will be accepted (i.e, oil, acrylic, pencils, crayons, collage, etc.). If you want to participate and cannot afford to purchase a panel, let us know. We may be able to help.
Panels should be dropped off no later than Thursday, March 30 at 4pm at Orison's Art and Framing, 110 East Louisiana St., McKinney, TX 75069.
Please include the following information on the back of your panel:
Name: (If you wish to remain anonymous, include your name and "anonymous." We will not display your name publicly. We will only use it to contact you with important information about the exhibit.)
Email:

Phone:

Sale Price: (if you do not want your artwork sold put $0.00)
After the Arts in Bloom event, ALL works not intended for sale or that did not sell will need to be picked up by April 12 no later than 5:00 p.m. at Orison's. Hope Rising and Orison's will not be responsible for any art work left after this date.
For more information or questions about the event, contact us.