Hope Rising at McKinney's Arts in Bloom Festival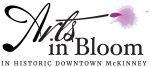 During McKinney's Arts in Bloom event on April 7-9, Hope Rising is sponsoring a public exhibit of professional and amateur healing art work created by survivors of sexual assault and domestic violence. This healing monument will be on display during the entire event, and select pieces of artwork will be available for purchase. Please come see us, experience the artwork, and share your stories.
This event is free and open to the public. Fore more information, click HERE. To volunteer, click the link at the bottom of the page.
When:
Friday, April 7, 4 to 9 p.m.
Saturday, April 8, 10 a.m. to 9 p.m.
Sunday, April 9, Noon to 5 p.m.
Where:
Historic Downtown McKinney, 111 N. Tennessee St.
What:
Produced and sponsored by McKinney Main Street, Arts In Bloom takes place in Historic Downtown McKinney and features one hundred and fifty juried artists set up on the tree-lined streets surrounding the McKinney Performing Arts Center.
Volunteer:
To volunteer at the Healing Monument exhibit, sign up HERE. No experience is necessary.