NO MORE Fundraiser for Hope Rising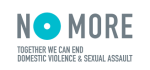 The 2nd annual NO MORE Challenge is back! NO MORE is a friendly fundraising campaign for organizations committed to ending domestic violence and sexual assault through direct service, education and prevention, and advocacy. Participating organizations compete for $150,000 in grand prizes, weekly Bonus Challenges, and a HopeLine phone drive contest to help further their missions.
The Challenge runs through Tuesday, April 11th.  To contribute and support Hope Rising, click here.
About NO MORE
NO MORE is a unifying symbol and campaign to raise public awareness and engage bystanders around ending domestic violence and sexual assault. Launched in March 2013 by a coalition of leading advocacy groups, service providers, the U.S. Department of Justice and major corporations, NO MORE is supported by hundreds of national and local groups and by thousands of individuals, organizations, universities, and communities who are using its signature blue symbol to increase visibility for domestic violence and sexual assault.
How NO MORE Helps
NO MORE was created as a platform for those working to end domestic violence and sexual assault, in the belief that greater dialogue will fuel enhanced funding for direct service, advocacy and prevention. NO MORE works to bring visibility and resources to these issues, and amplify the key messages of local, state and national non-profit organizations for whom NO MORE was founded and with whom NO MORE partners. NO MORE also encourages those working to end domestic violence and sexual assault to use the NO MORE symbol and assets to raise money, generate support, and bring communities together around these issues.
How you can help
Through theatre, art and music events, Hope Rising raises money for various organizations in Collin County and beyond. We have collected almost $40,000 for local service organizations since our inception four years ago.
Thanks to the NO MORE Campaign, we intend to use the funds collected to support domestic and sexual abuse awareness campaigns, such as our annual One Billion Rising Flashmob, parades, and booths at local community events. Since Hope Rising donates 100% of proceeds from each fundraising project, awareness funds are limited. Our awareness activities are funded solely by your direct donations to Hope Rising and through campaigns like NO MORE and the North Texas Giving Day. Please help us continue our work to end domestic and sexual violence by donating today! No gift is too big or too small. Every dollar makes a difference!