6th Annual Hope Rising Flashmob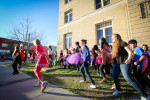 On Saturday, February 10 at 5 pm, we will once again join the world in shaking the earth to bring awareness and stop the violence against women. 1 in 3 women across the planet will be beaten or raped during her lifetime. That's ONE BILLION WOMEN AND GIRLS. Every February, people rise – in hundreds of countries across the world – to show their local communities and the world what one billion looks like and shine a light on the rampant impunity and injustice that survivors most often face.  We rise through dance to express joy and community and and celebrate the fact that we have not been defeated by this violence.
If you've never been a part of a Flashmob, it's a fun and empowering experience. Everyone is welcome to participate: men, women, old, and young! You don't need any special skills, and you don't have to be a good dancer. We are looking for people who want to have fun and support a good cause at the same time. To join us, simply gather on the South Lawn of the McKinney Performing Arts Center at 111 N. Tennessee St., McKinney, 75069.
After the Flashmob, everyone is invited to join us for an after-party at the Lone Star Wine Cellars at 103 E. Virginia Street. All ages are welcome.
LEARN THE FLASHMOB DANCE
You have two options for learning the dance.  You can learn it online or join us for free lessons where you will be taught the dance and have a chance to practice it with other Flashmob participants. It's a great way to meet others who will be there, and it's fun!
To learn the dance online, visit:  http://goo.gl/8dRXvW
Practice will be at Dancer Strong Academy, 192 Industrial Blvd Suite 103, McKinney, Texas 75069
Tuesday, Jan 30, 7:30 pm
Saturday, Feb 3, 2:00 pm
Thursday, Feb 8, 7:30 pm
WHAT SHOULD I WEAR?
We recommend wearing casual, comfortable clothing and shoes. If the weather is nice, tshirts and jeans with sneakers work well. If it's cold, you may want to add extra layers. Many participants will wear their Hope Rising shirts to help raise awareness against domestic and sexual violence.